Top 5 Best Music Player for Android
On this post, I'll show you my personal review of several Android music players that I consider to be the best among hundreds of choices from the Play Store. Please note that I will include both paid and free music player apps for a more detailed review.
doubleTwist Music Player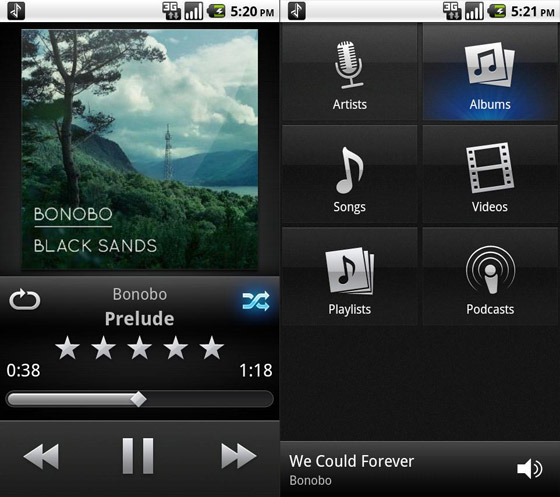 doubltTwist
is perhaps most known for its inter platform support. It can play podcasts which is usually found on Apple devices and can even be synced to Itunes! Music quality is good with its built in equalizer and even be streamed on Xbox, PS3, and other known consoles and 3rd party speakers.
Another main attraction is the Magic Radio feature which allows the app to check the genre of your local library, thus playing songs that it deemed to be parallel with your own preference.
Theme support is also available with quite a large number of 3rd party developed skins for doubleTwist.
Music Quality - 4/5
Themes - 3.5/5
Cool Factor - 4/5
Support - 3/5
Google Music Player
This is the default music player for Android.
You might be wondering why its included here, Well, since the release of Android 4.1, the default music player had improved teremndesouly until the latest release of 4.4. The Google Msuic Player can take on some of the 3rd party music player in the market!
Perhaps the best feature of this is the built in Google Cloud support which allows you to store songs on the cloud, and play them anywhere as long as you could connect your Google account! Now that's amazing.
Music Quality - 3.5/5
Themes - 3/5
Cool Factor - 4/5
Support - 4/5
Neutron Music Player
One word to describe this player - Pro. Pro as in professional.
Neutron is filled with techie customization
options like DSP, advanced equalizer, crossfeed, and other stuffs that normal users would probably be scared to touch. But if you know that you are doing, then your music quality will increase ten folds.
It also supports a number of themes and is regularly updated by its devs. It costs $3.99 to be exact.
Music Quality - 4.5/5
Themes - 3/5
Cool Factor - 4.5/5
Support - 3.5//5
PowerAMP Music Player
This is my first 3rd party music player and still kept it today.
Poweramp's equalizer is simply top notch
compared to other players. Even my lowly headphones became tolerable once I adjust the bass and mid settings inside the player to give the music some boost.
Themes are also supported though their numbers are not that large. The default skin is black,white, and a bit of blue in motif and is already good looking compared to others.
Music Quality - 4.5/5
Themes - 4/5
Cool Factor - 4/5
Support - 4/5